Mar Ignatius Abded Mshiho II Patriarch | Aug 15
Moran Mar Ignatius Abded Mshiho II was the Patriarch of Antioch, from 1895 until 1903. Abded Mshiho was born in the village of Qal'at Mara, east of Mardin, in 1854 and at the age of 12, in 1866, he joined the Monastery of Mar Hananyo (Monastery of Saint Ananias – It is usually better known by its nickname, the "Saffron Monastery", Dairo d-Kurkmo; Dairu 'l-Za'farān) where he began his education. Seven years later in 1873, he entered the monastic orders, becoming a monk. In 1875, Abded Mshiho was ordained as priest, in 1886, he was consecrated as a bishop. After the death of Patriarch Ignatius Peter III in 1894, Abded Mshiho was elected and consecrated patriarch, upon which he assumed the patriarchal name Ignatius in 1895. Abded ascended to the patriarchal throne at the onset of a time of great difficulty for the Syriac Orthodox Church.
Abded Mshiho continued to reside at the Patriarchal residence in the Monastery of Mar Hananyo, raising questions on the likelihood of an excommunication; the rivalry between the two patriarchs caused a rift within the Church, exacerbated when Abded Sattuf ordained Indian metropolitan bishops in 1908, creating fear in the Malankara Church that he would attempt to take control of the Church, reversing the decisions of the Council of Mulanthuruthy in 1876. As a result, supporters of Abded Mshiho began to call for the appointment of a Maphrian or Catholicos to prevent the Malankara Church coming under Abded Sattuf's control. In 1912, Abded Mshiho was invited to India by the Malankara Metropolitan Geevarghese Mar Dionysius of Vattasseril to discuss with the Malankara Synod who would be appointed Catholicos, a request which he had denied previously.
The Vaideeka Synod (Synod of the Clergy) presided over by Ignatius Abdul Mshiho II and Malankara Association Managing Committee unanimously decided that Mar Ivanios Metropolitan be enthroned as Catholicos of the East. The Synod unanimously voted for Mar Ivanios to become Catholicos and on 15 September 1912 Abded Mshiho consecrated Ivanios as Baselios Paulose I at St. Mary's Church, Niranam, as well as Geevarghese Mar Gregorios, Geevarghese Mar Philoxenos and Yuyakkim Mar Ivanios,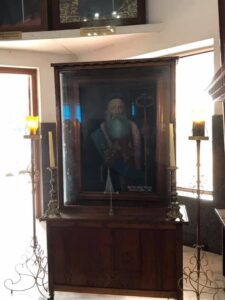 When Baselios Paulose I, was crowned on the Throne of St. Thomas, Ignatius Abdul Masih II accepted the autonomy and autocephaly of the Malankara Orthodox Church with its own constitution and powers, which included the right to ordain Metropolitans, to consecrate Holy Chrism and perform other holy services.
In March 1913 Abded Mshiho returned to Mardin where he spent the remaining years of his life in prayer and peace, he died on 30 August 1915 and was entombed in the Monastery of Mar Hananyo, the traditional resting place of Patriarchs of Antioch. The Malankara Orthodox Syrian Church observes his memorial feast on August 15