Mar Augen of Qlysma – Jan 23 I Father of Syrian Monasticism
Mar Augen (Agwin or Agwen of Clysma / St Eugenios) was a fourth century saint. Mar Augen was an Egyptian, born in the time of Constantine. He was a pearl-fisher at Clysma or Kolzum or Qlysma, the present day, Suez, Egypt. He gathered oysters from the bottom of the sea and distributed them among the poor. Mar Augen of Clysma was engaged in helping the poor for nearly twenty-five years.
He then approached the noble monk Pachomius, the founder of Coenobitic Monasticism and started the life of a monk. So, after 25 years as a fisher, he joined the monastery of Mar Pachomius in Upper Egypt, where he worked as a baker. He is reported to have possessed spiritual gifts and worked miracles. Mar Augen himself is said to have performed numerous miracles in the presence of Shapur II, the King of Persia. Regulations were codified for the community life of the monks during the period of St. Pachomius (A.D. 292 – 346). Men from various nations, Greece, Rome, Cappadocia, and Syria joined the Egyptian monastery.
He later left Egypt for Mesopotamia, where he founded a monastery on Mt. Izla above the city of Nisibis. About 70 monks accompanied him. He established many monasteries in Syria after becoming a monk. Mar Augen is the traditional founder of monasticism in Mesopotamia and is also known as the father of Syrian Monasticism. His seventy disciples who followed him from Egypt were the reputed founders of other monasteries in various parts of Mesopotamia and other Syriac-speaking lands. It is believed that he started the tradition of monasteries in Persia as well. The monastic complex of Mor Augen, or St. Eugenius, is located on the steep cliffs of Tur 'Abdin near Mardin in the southeast of Turkey. This is believed to be the most ancient monastery in the area.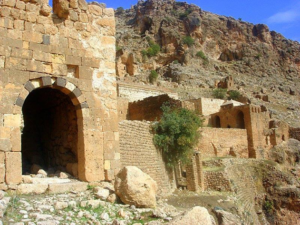 The Orthodox Syrian Church celebrates his feast on 23 January and 21 April. Mar Augen is held in the highest esteem in all the eastern churches with Syriac roots. He is venerated as a saint in the Armenian Apostolic, Coptic, Syrian Churches and Assyrian Churches too.
The Malankara Orthodox Church has one Church in the name of Mar Augen the great monk. Maravanthuruthu Mar Augen Orthodox Church was built in 19th century. The Church was situated at Maravanthuruthu panchayath of Vaikom taluk in Kottayam district in Kerala state. The Church was consecrated jointly by Parumala Kochu Thirumeni & Murimattathil Mar Ivanios (Baselios Paulose I then Catholicos of Malankara). They suggested the name of the Church as Mar Augen Church, since the great monk had missions in coastal areas among fishermen and Maravanthuruthu is an island surrounded by Moovattupuzha River and in those days the livelihood of people was mainly boating, fishing, and farming.