Holy, Righteous Anna (Hannah) the Prophetess – Feb 2
Holy, Righteous, Anna the Prophetess was the daughter of Penuel, of the tribe of Asher. She was very old devout Jew; she had lived with her husband for seven years after her marriage, and then remained a widow until she was eighty-four. She never left the temple but worshiped night and day, fasting and praying.
According to St Luke's Gospel, "And there was one Anna, a prophetess, the daughter of Phanuel of the tribe of Asher. She was of a great age, and had lived with a husband for seven years from her virginity; and she was a widow of about eighty-four years, who did not leave the temple, but served God with fasting and prayers night and day. And coming at that very hour, also gave thanks to the Lord, and spoke of Him to all those who looked for redemption at Jerusalem" (Luke 2: 36-38).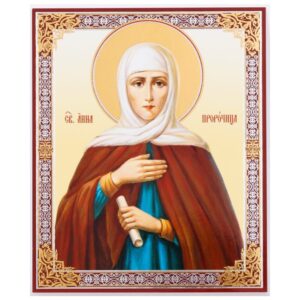 Anna is among only a handful of women in the Bible bearing the title prophetess (Luke 2: 36). Miriam, the sister of Moses (Ex. 15: 20); Deborah, the judge (Judg 4: 4); Huldah, the wife of Shallum (2 Chron. 34: 22); Isaiah's wife (Is. 8: 3); and four unmarried daughters Philip, the Evangelist, one of the seven deacons of the early Church (Acts 21: 9), are among the other prophetess of the Holy Bible.
Anna had been married only seven years, then she became a widow, and she remained a widow for the rest of her life. It is also possible to interpret the text to mean Anna had lived eighty-four years after her husband died. That would mean Anna was at least 104 years old, if she had married at the age of thirteen. Either way, she had spent the vast majority of her life without a husband and was ministering before the Lord in the temple. (Lk. 2: 36–37).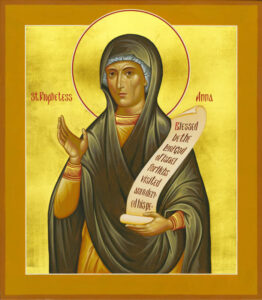 After becoming a widow, Anna dedicated herself fully to the Lord. She never left the temple in Jerusalem but spent her time worshiping, fasting, and praying, actively ministering in the temple night and day. It is possible that Anna was living within the temple area, or in close vicinity, Her devotion to God was constant for the majority of her life, and her devotion was rewarded with an encounter with her Savior. Her many years of sacrifice and service were worth it all when she beheld the Messiah, the One for whom she had waited so long. "(Luke 2:37).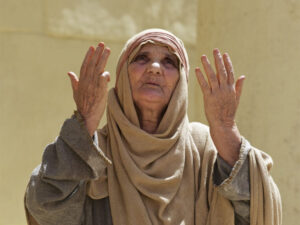 After Holy and Righteous Simeon meet the Messiah, holds Him in his arms, praises God, and declares a prophecy concerning Jesus and Mary, Anna approaches the Holy Family, in the temple. She, too, recognizes Jesus as messiah, the long-awaited Savior and begins thanking God. She has a very different reaction: "At that moment, she came and began to speak about the child to all who were looking for the redemption of Jerusalem" (Lk. 2: 38). She bears witness to what she has seen and is the first woman to understand fully, to bring honor and proclaim the good news. Good news is meant to be shared and intended to be proclaimed. Anna was blessed to see it and shares it with everyone who was anticipating the Messiah. Women are first to proclaim Christ. Anna, proclaims the Redeemer had come, the prophecies were being fulfilled. St. Elizabeth realizing that her cousin is carrying the Messiah, praises God for this blessing. Mary Magdalene the first to witness Christ and carry the Good News of the Resurrected Lord.

Pictures: https://images.oca.org/icons/sm/february/0203aanna.jpg; https://www.holyarchangelcandles.com/product/st-anna-the-prophetess/ https://damascenegallery.com/products/holy-prophetess-anna-1/