Mar Thoma IV – Mar 24 I An Able and Pious Metropolitan
Mar Thoma IV was the fourth bishop who was the Malankara Metropolitan of Malankara Church in India in 1688 – 1728. Nothing much known about his earlier days, but like his predecessors, he belonged to the Pakalomattom family, just like his predecessors and was as an able and pious Metropolitan.
Mar Thoma III died suddenly on 21 April 1688 and was laid to rest at Kadampanad Church. The leaders of the Malankara Church selected Mar Thoma IV as his successor. At that time Mar Ivanios Hidayattulla from Antioch who arrived in Kerala in 1685 was the only bishop in Malankara. So, Mar Ivanios consecrated Mar Thoma on April 19, 1688.
During his reigning period of four decades the Church passed through a number of persecutions. The Dutch East India Company that was established in 1602, attacked Cochin and the king of Cochin surrendered to the Dutch on 20 March 1663. They were in control of Cochin and the surrounding area during the time of Mar Thoma IV. At this time Archbishop J. Robeiro demanded that the Malankara church should be under him. The Metropolitan complained to the Dutch company and Archbishop was banned from taking any action against the Malankara Church. Metropolitan also complained about the atrocities committed by the Raja of Cochin. Because of the steps taken by the Company, that trouble also stopped.
A Nestorian bishop Mar Gabriel arrived in Malabar in 1708, sent by the Patriarch to bring the Syrians into the Nestorian faith. Neither the Malankara Church nor the Catholics accepted him. The Nestorian Bishop Gabriel had strained relations with Mar Thoma IV, too. Finally, he came to Kottayam Cheria Palli, where he passed away and was buried there.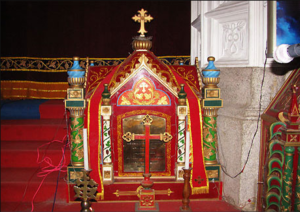 By 1727, Mar Thoma IV fell sick. So, the leaders of the Malankara Church selected a successor for him. He was consecrated as Mar Thoma V. On 24 March 1728, Mar Thoma IV died and was laid to rest at Kandanad Martha Mariam Orthodox Syrian Church.