HAPPY AND JOYOUS CHRISTMAS TO ALL!!!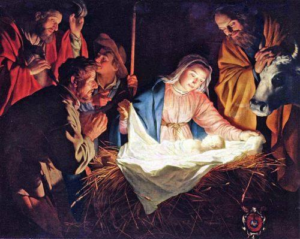 OUR LORD AND SAVIOR JESUS CHRIST IS SEEN WRAPPED IN SWADDLING CLOTHES (LUKE 2:7,12). THIS NOT ONLY REPRESENTS HIS TOTAL SUBMISSION TO THE HUMAN FLESH, BUT ALSO FORESHADOWS HIS DEATH AND RESURRECTION.
He is lying on the altar which symbolizes He is the bread of life.
The manger represents His crib, His Church, and His tomb – all in one. The symbolism is very powerful here. Jesus came to the earth to die for us. He was very well aware of his ministry at the time of His incarnation. He died for us so that we can inherit the eternal life as His children.
I am the living bread which came down from heaven; if any man eat this bread, he shall live forever, and the bread that I will give is my flesh, which I will give for the life of the world. – John 6:51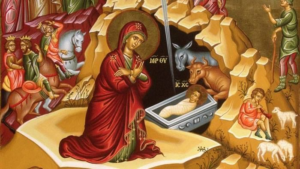 Velivu niranjo reesho nin velival kanunnu .. (By Thy light we see the light, Jesus, full of light, Thou, true light, dost give the light.).
We sing together, at the Public Celebration, when the Madbhaha is opened, signifying the birth of our Lord Jesus Christ, in the Manger in Bethlehem.
Today is that Day, when the Light of the World was born. In the nativity scene, we will see the light emanating from Jesus Christ. There is, no other sources of light in in the Nativity scene.
It is dark in the cave. Some light comes through the door. But look at the baby Jesus. He is shining. His light is reflected on Joseph, Mary and the shepherds. The stable was dark – the darkness also symbolizes the sins of the people. Here the Light of the World is born to liberate them. The Light comes to wash off their sins. Darkness cannot survive when light shines. Look at the face of the shepherds in the picture below. They are happy at finally a saviour has come to liberate them.
HAPPY CHRISTMAS TO ALL!!!