Holy Martyrs St. Sergius & St. Bacchus – Oct 7 I (Sts Sergios, Sarkis and Bakchos, Bakhos)
Sergius & Bacchus were third century, high-ranking, Christian, Roman legionnaire, soldiers. These two close friends of Roman citizenship were officers of troops at the frontier, stationed in the border of Syria, serving Emperor Maximian. They held high favour and esteem in Emperor's eyes, hence they were attached to the household of the Caesar Galerius Maximianus, until they were exposed as secret Christians.
They were ordered to enter the Temple of Jupiter, with the rest of his bodyguard soldiers to participate in a sacrificial ceremony to the god, they refused. Envious people informed Maximian that his two trusted counsellors did not honour the pagan gods. The emperor ordered Sergius and Bacchus to offer sacrifice to the idols, but they replied that they honoured the One God and worshiped only Him. For this act of defiance, they were stripped of their arms and badges of rank. They were arrested, chained, and paraded dressed in women's clothing, through the streets of Arabissus, near Comana, Cappadocia, with iron chains around their necks. The people mocked them. This was an abject humiliation, for the Roman soldiers.
The emperor commanded them to be sent to the governor of Russafa, the eastern part of Syria, Antiochus, a fierce hater of Christians. Antiochus had received his position with the help of Sergius and Bacchus. He said to the saints, "My fathers and benefactors! Have pity on yourselves, and on me. I do not want to condemn my benefactors to cruel tortures." He begged them to renounce Christ, to escape torture and an ignoble death. The holy martyrs replied, "For us, to live is Christ and to die is gain." They answered: "Honour and dishonour, life and death, are all the same, fleeting and perishable, to anyone seeking the Kingdom of Heaven". Then they were sent to in Syria, where they were tortured. They prayed "Rise, Lord, help us and rescue us for Your name's sake; strengthen our souls that we may not be separated from You".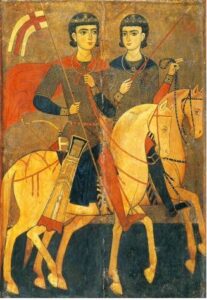 Sergius and Bacchus were then separated and beaten severely. Sergius, though, had much more suffering to endure; among other tortures, as the legend relates, he had to run eighteen miles in shoes which were covered on the soles with sharp-pointed nails that pierced through the foot. The enraged Antiochus ordered St Bacchus to be whipped and mercilessly beaten until his flesh was raw. The torturers took turns to beat him mercilessly, until his body was separated into its constituent parts. Bacchus' holy soul departed from his fragmented and bloodstained body and, in the hands of the angels, was borne to the Lord. Thus, the holy martyr surrendered his soul to the Lord. He died October 1st AD 290, confessing his faith in Christ. That evening it is said that Bacchus appeared as an angel in military garb, to Sergius and told him not to despair and that they would soon be reunited.
Sergius' faith did not falter with the death of his friend but was reinforced when Bacchus appeared to him in a vision saying, "I am still with you in the bond of our union." They shod St Sergius with iron sandals with nails in their soles and sent him to another city, where he was beheaded with the sword. Like his friend, Sergius kept the faith after torture, and remained steadfast in his refusal to recant his faith in Christ he was further tortured and beheaded on October 7th AD 297. He too died a martyr.
The tomb of St. Sergius at Russafa become a famous shrine and was honored by great gatherings of Christians because of the frequent miracles there. Sergius and Bacchus became the heavenly protectors of the Byzantine army. The tribe Taghleb had Saints Sergius and Bacchus on their own flag. In 431, Bishop Alexander of Hierapolis built a magnificent Church in his honor. In 434, the town of Russafa was raised to the rank of an Episcopal see and was named Sergio polis and soon became one of the great pilgrimage centers of the East. Many Churches, in many towns bore the name of Sergius (sometimes with Bacchus) and in the seventh century, a Church in Rome; in Syria many of old Cathedrals; in Lebanon about 17 Churches, in Turkey, Trieste in Italy has St. Sergius as a patron of the city.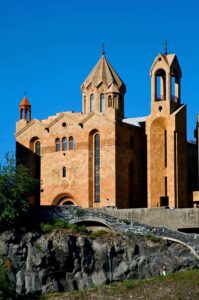 The martyrdom of Sts. Sergius and Bacchus has been largely forgotten and not known to the present generation. They are recognized as martyrs by the Catholic, Eastern Orthodox and Oriental Orthodox Churches and still venerated throughout the Mediterranean and the Middle East, where Arab Christians regard them as patron saints. In the Armenian Apostolic Orthodox Church traditions Sergius, or Sarkis, was venerated for witnessing to their faith in Christ, with a feast, that is preceded by three-day fasting. The outstanding athletes, Sergius and Bacchus, were martyred, for the faith in their Lord, they received the crown of eternal glory from Christ, the King and Lord. Their Feast day is October 7.