NEW YEAR'S RESOLUTIONS – Deuteronomy 6:5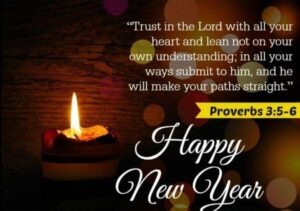 The New Year is the day that marks the end of one year and the beginning of the next year, and is the day on which the year count is incremented. The Bible does not speak for or against the concept of New Year's resolutions. One of the traditions associated with New Year's observances is the making of resolutions, promises to stop or start something in the New Year New Year's Eve is a great time for Christian believers to get together and rejoice, either in homes or in Churches.
It's that time of year when everyone makes 'New Year's Resolutions' – things that you and I plan to do to make next year better than last. In reality, there is only one resolution that any of us needs to make in order to cause all of the other things we desire to fall into place. What is that resolution? It's stated perfectly in Deuteronomy 6: 5: "Love the Lord your God with all your heart and with all your soul and with all your strength." If you love God with all your heart and all your soul and all your strength, you will put Him first in all things, "…and all these things will be given to you as well" (Matt. 6: 33).
"…Forgetting what is behind, and straining toward what is ahead, I press on toward the goal to win the prize for which God has called me heavenward in Christ Jesus." Forget the ills and wrongs of yesterday. Peep into old year and leap into the new year. If you remember them at all, remember them as lessons you learned in the process of moving toward your ultimate goal – becoming more like Jesus. Hold nothing in your heart or memory that will be a stumbling block to your walk with Him. Many things I have tried to grasp, and have lost. That which I have placed in God's hands I still have.
A little boy asked his father for assistance in repairing his broken wagon. When the job was done, the boy looked up and said, "Daddy, when I try to do things by myself, they go wrong. But when you and I work together, they turn out just fine." Let us work together, hand in hand with our Heavenly Father. "Commit your way to the LORD; trust in him and he will do this: He will make your righteousness shine like the dawn, the justice of your cause like the noonday sun." Ps. 37: 5-6,
Therefore, if anyone is in Christ, he is a new creation; old things have passed away; behold, all things have become new. 2 Cor. 5: 17. 'Keep the smile, leave the tear. Think of joy, forget the fear. Hold the laughter, leave the pain. Be joyous, because it's New Year's Day'. As the New Year begins let us pray that it will be a year with peace, happiness, and abundance of new friends. God bless you all throughout the year.