Sacramental Fans/Liturgical Fans (Marbhaso)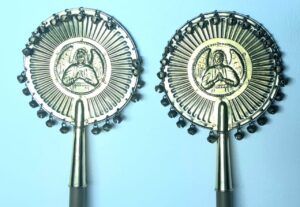 These are round metallic disk representing a Seraphim's head surrounded by six wings, mounted on an upright shaft. These are made of silver or some metal and are always used in pairs. The center of the fans, the seraphic face and the wings are represented (Is. 6: 14; Rev. 4: 8). The rim of the fan has small round bells, which jingle, as the fan is shaken, by altar servers, to produce a pleasant sound. The tinkling or rattling sound of fans signifies the flutter of the wings of the angelic community particularly the Seraphims in our worship and around the mysteries. It represents the adoration of the angels.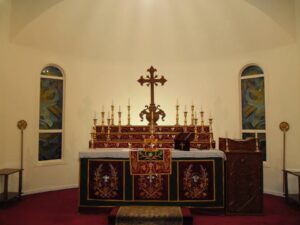 The Sacramental Fans or Liturgical Fans are carried in processions and shaken at the most solemn parts of the Holy Qurbana. When the Holy Mysteries are brought down signifying the Second Coming of our Saviour, the sound of the fans proclaims the trumpets. (1 Cor. 15: 52; 1Thes. 4: 16). These two sacramental fans are usually placed at back of the altar, when not in use, symbolizing that the Seraphim guard the Throne of God in Heaven, so too they guard the Altar Table which is The Throne of God on earth. Their presence behind the Holy Altar Table, also reminds us that the Seraphim worship God with us before His Holy Altar, as they are about Him in Heaven. Its original purpose was to fan, the Holy Mysteries, when the veils were removed, to keep away from insects, especially when Holy Eucharist was celebrated in Caves, during persecution.