St Gregorios of Parumala – St Anthony of Malankara – Nov. 2 I (1848-1902)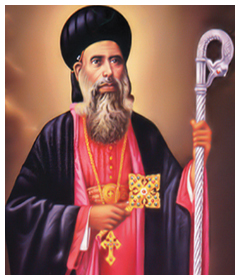 St. Gregorios of Parumala our Patron Saint, popularly known as and fondly remembered as Parumala Thirumeni, is the first declared saint of Malankara Indian Orthodox Church. A pure model of Eastern spirituality, he nurtured the Church with unceasing prayer and strict ascetic practices. A good shepherd, a great teacher of Orthodoxy, a Gospeller to the non-Christians, interceded for the Church, humankind and Universe.
It was on June 15, 1848, that Kochu Ipeora was born as the youngest child in Chathuruthy family, Mulanthuruthy, Kerala. His parents Kochu Mathai and Mariam had three sons and two daughters. He was christened as 'Geevarghese', at his home parish, the Mulanthuruthy Marthoman Church. About two years after his birth, mother Mariam died. Thereafter his elder sister Mariam took care of his upbringing with love and affection.
Young Kochu Iypora started his formal education, at the age of five, under 'Onakkavil Ayya', a local Hindu (Ezhava) teacher. He also studied in a traditional village School (Mammoottil Mani Asan'skalari). The young Ipeora was not very much interested in worldly pleasures or the gaieties of life, but was more inclined to Prayer, reading the Holy Bible and listening to the stories of saints. He carefully observed 'fasting' even from his young days. He was a model for his friends in showing his respect to his teachers, humility, obedience and love. Fr. Geevarghese, Kochu Ipeora's uncle, noticed his studious nature, noble character, keen and penetrating insight, sharp intellect and a wonderful memory undertook his coaching. The boy studied theology and Syriac, from his uncle who was an authority in it. At this young age itself, many observed a spiritual ability and intelligence in Kochu Iypora and he was able to sing Syriac hymns of the Church in proper rhythm and diction.
Proper guidance and advices given by Fr. Geevarghese influenced young Geevarghese, increased his interest in the Holy Church and its traditions and helped young Kochu Ipeora to lead a pious life. After the early days of education under teacher (Malpan) Geevarghese of Chathuruthy, Kochu Ipeora was ordained as deacon (Kooroyo) at the age of 10, on September 14, 1858, by Palakkunnath Mathews Mar Athanasius, the then Malankara Metropolitan Church
One day Malpan became seriously ill with smallpox. Deacon Geevarghese was the only one who stayed and took care of him, while all others were sent home. On the eight day Malpan died and deacon became ill. During this time he had a vision of St. Mary in his dream, descending to console him, and exhorting him to dedicate the rest of his life to the Lord. He pledged "He would". This was a heavenly vision that enabled him, to become a humble servant of God. Very soon the deacon recovered, but with a firm resolution to spend his life in prayer and monastic discipline. He then became a student of Konaattu Malpan and learned cannon Law, Faith, Order and customs.
During this time Yuyakkim Mar Koorilose, from Syria visited India. Bishop Koorilose was very much impressed by Deacon Geevarghese's wisdom, devotion and command in Syriac language. The deacon traveled with Mar Koorilose as his translator and guide. Mar Koorilose ordained deacon Geevarghese as a full deacon 'Shamshono'. In October 1865, at the age of 18, Yuyakkim Mar Koorilose, elevated Deacon Geevarghese to the order of full Priest (Kassisso) and later 'Cor-Episcopa'.
Geevarghese Cor Episcopa was much impressed by the monastic traditions and decided to be a follower of Christ in the monastic tradition of St. Anthony, a third century monk. He chose Vettickal Dayara as his abode, where he could live the monastic life of abstinence, discipline, devotion, practicing fasting, prayer, meditation and mortification. All this slowly started to sanctify his life. People living around Vettickal were immensely impressed by the strict ascetic discipline and this monk became a great inspiration to them They started to visit him to seek advice and guidance. His name and fame started to spread. While we consider his strict and ardent monastic rules and routines, undoubtedly he could be considered as the St. Antony of Malankara Orthodox Church.
Pulikkottil Joseph Mar Dionysios raised him to the order of monks (Ramban) in April 7, 1872. When Patriarch Ignatius Mar Peter III visited Malankara in 1875, Ramban Geevarghese served as his secretary and interpreter, and traveled with him through out Kerala and became a close aide of the Patriarch of Antioch. Impressed by the simplicity, sincerity, commitment, and spirituality, H. H. Patriarch Ignatius Peter III, decided to consecrate of Geevarghese Ramban as a metropolitan. The Patriarch consecrated four metropolitans at the St. Thomas Church Paravoor, Kerala on December 10, 1876. The young Chathruthy Geevarghese Ramban, was named Mar Gregorios, after the title of the Metropolitan of Jerusalem. The same year the Patriarch had consecrated six Metropolitans. The 29-year-old Mar Gregorios was the youngest of them and so everybody called him lovingly as "Kochu Thirumeni" (youngest bishop). Mar Gregorios was appointed the bishop of Niranam, Kerala. He later on took charge of the Dioceses of Thumpamon and Kollam. He then started to stay at Parumala and came to be known as "Parumala Kochu Thirumeni". He constructed a Church and a seminary at Parumala. He consecrated the church and offered the first Holy Qurbana in the presence of Metropolitan Pulikottil Joseph Mar Dionysius. The Church was dedicated in the names of the Apostles St. Peter and St. Paul.
At Parumala Seminary he led an austere life. He woke up at 4am in the morning and prayed till 5am. He taught deacons till 7am followed by private prayers and meditation. He then used to have a very light breakfast. From 9am till 11am he taught deacons again. From 11am to noon he took care of administrative matters and again went to prayer at noon and then to lunch. He rested till 1:30pm and taught till 4pm with a brief lonely prayer in between. From 4pm to 5:30pm he was busy with his administrative duties. After evening prayers and supper, he taught bible to the deacons. After the compline, at 9pm he would let the deacons go to bed, but he would still be praying until midnight. On Wednesdays and Fridays and Lenten days, he would fast till evening. Besides, he observed his own special fasts. People came from far and near to seek his blessings and paternal advises.
Parumala Thirumeni's visit to the Holy Land in 1895 was a great event of the time and a fulfillment of his long-standing wish. Parumala Thirumeni later published an excellent travelogue ("Yerusalaem Yatra Vivaranam") about his visit to the Holy Land. After his pilgrimage Thirumeni ordained two of his disciples as deacons. One of them later became the Catholicos of the East, H. H. Moran Mar Baselius Geevarghese II.
St. Gregorios became sick when he returned from Veeyapuram Church after blessing a marriage. Even from the beginning of his illness he knew that he was in his last days. The news of illness spread all over Malankara. Although he grew weaker day by day, his face shone brighter and brighter. It was on November 1, 1902, midnight he was ready to meet his heavenly Father. He left his earthly abode and flew to eternity. The great saintly person, the lighthouse, morning star, the glowing lamp of our Church was blown out. The body of the Holy Father, adorned with all vestments was interned into a tomb at Parumala Church, amidst wailing and crying, sighing and beating of breasts.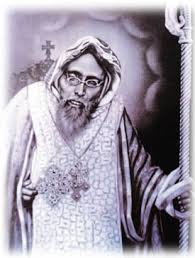 On November 2, 1947, the Holy Episcopal Synod of the Orthodox Church convened on the 45th annual feast, by the late Catholicos Mar Baselius Geevarghese II, proclaimed 'Mar Gregorios' as a 'Saint', along with Holy father Baselios Yeldo of Kothamangalam. The Synod also decided to include his name in the 5th Diptychs (Thubden) and permitted to found Churches and altars in his name. Let us all seek the intercession of Parumala Thirumeni.