St Pachomius the Great – May 15 I The Hermit, Founder of Coenobitic Monasticism
St. Pachomius, the Great, venerable hermit father, was an early Egyptian ascetic, both a desert Father and a founder of coenobitic monasticism in Egypt. He was born in Thebes (Upper Thebaid), Egypt around A.D. 290, to pagan parents. His name, in his native Coptic, Pachom, means 'eagle'. He received an excellent secular education, had a good character, and he was prudent and sensible, from his youth.
Not much is known of his early life but at 21, he an Egyptian pagan was recruited into the Roman army and was specifically inducted into the emperor's army. While serving the soldier quartered in prison, he was attracted and amazed by the behaviour, kindness and noble deeds of the local Christians, who relieved the distress of prisoner soldiers, by bringing food and drink. This made a lasting impression on his mind. Learning who they were, he started to believe in Christ and vowed, once released from the army, to serve him for the rest of his life.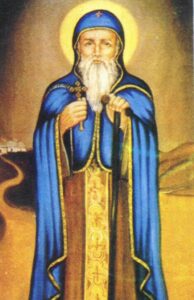 At the end of his release from military service, in AD 313, he desired to flee the world and approached the venerable old ascetic, hermit Palaemon, with a desire to become his pupil. The old anchorite Palaemon, in the deserts of Upper Egypt, refused to receive him, because this manner of life was too severe for a youth. "I eat nothing but bread and salt," said Palaemon; "I never taste wine, and I watch half the night." Then Pachomius answered, "I believe in Jesus Christ my Lord, who will give me strength and patience to assist thee in thy prayers to follow thy holy conversation." Then Palaemon, beholding him with his spiritual eye, saw that he was a chosen vessel, and admitted him to be his disciple. So, they lived together, serving the Lord in fasting in tears and prayer, for ten years. He was baptised and became a disciple of the hermit Palamon, under whose exacting guidance he increased in virtue and grace, and reached such a height of holiness that "because of the purity of his heart."
The ascetics of this order made bamboo baskets and other items, woven out of reeds, during the day and they recited Psalms and immersed themselves in prayers by keeping vigil, in the nights. Their products were sold once in a week and the money was used to buy bread and the rest of the money was distributed among the poor.
One day as Pachomius was walking along the banks of river Nile near to Tabennisis, heard a voice that told him to build a dwelling for the hermits. An angel appeared to him dressed in the robes of a monk and gave him a tablet on which was written the rules for a coenobitic monastery, the one in which the brethren monks live communally rather than alone as hermits, something that had not been seen before among Christians. He and Palaemon, on the instruction of the angel, set to work and constructed a monastery in A.D. 318 and started living there. Pachomius, build many cells, though there was no one to live there but himself and Palaemon. It was Pachomius who wrote the oldest known monastic rule.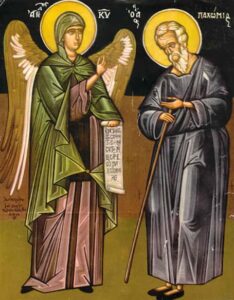 Palaemon too, later left him to lead a solitary life. According to the directives given by the angel on a bronze plate, Pachomius codified rules for monastic life. He set apart special timings for prayer and handicraft work. The ascetics were expected to wear a headgear and maintain silence and quietude. The first person to join his monastic group was his own brother, John. When John questioned the unnecessary building, Pachomius only said that he was following God's command, without saying, who would live there or when. Trusting in God, he built a monastery, although he had no disciples; but vast multitudes soon flocked to him, and he trained them in perfect detachment from creatures and from self. Hundreds followed him and he had to construct six more monasteries in Thebaid. From A.D. 336 he had been living mainly in Pabau. He also constructed a Church for the benefit of poor shepherds.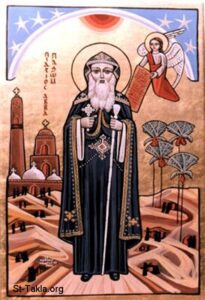 Pachomius' rule balanced the communal life with the solitary life, with the monk ascetics, living in individual cells but working together and fulfilling the obedience assigned them for the common good. Pachomius was strict with the community of monks that began to grow around him. All were given the same food and attire and were not allowed to possess their own money nor to accept anything from their relatives. He impressed everyone by his love for work, which enabled him to accomplish all kinds of monastic tasks. He cultivated a garden, he conversed with those seeking guidance, and he tended to the sick. Saint Pachomius endured many temptations and assaults from the enemy of the race of man, but he resisted all temptations by his prayer and endurance.
St Pachomius considered that an obedience fulfilled with zeal was greater than fasting or prayer. He also demanded from the monks an exact observance of the monastic rule, and he chastised slackers. Once he even refused to speak directly with his own sister in order that he might maintain his detachment from the world. He did, however, talk to her through a messenger, and he blessed her desire to become a nun. A nunnery for his sister Maria was constructed on the opposite bank of river Nile and she had her own all-female monastic community growing up around her.
Pachomios memorized the Holy Scriptures. At the time the daily recitation of the 150 Psalms was customary. When he started reciting God's words by heart, he did not do it in the fashion of many other people, but he strove to comprehend it himself, each and every thing through humility, gentleness and truth, according to the Lord's word, "Learn from me, for I am gentle and humble of heart" (Matthew 11:29). Pachomios always stretched his arms out in prayer, without folding them soon again into a resting position, but rather keeping them stretched out, as if on a cross, in order to force the body to labor and stay awake in prayer.
The ascetics in this monastery were not ordained priests. St. Athanasios visited him in A.D. 333 because of his zealous defence of orthodoxy against Arianism. By 348, Pachomius directed almost three thousand monks. This year, he was infected by some form of plague or pestilence. His closest and dear disciple, St. Theodore, who tended to him with filial love, fell ill. The inmates of the monastery informed him about it and requested his prayers. He replied, "I am praying for him but it is worthier to bear the pain and other difficulties with patience and fortitude". Pachomius who had a special gift for prophecy was blessed with healing powers too. Pachomius lived the most of his life managing his monastery, performing wonders, fighting the demons, in fervent prayer. St Pachomius always taught the monks to rely only upon God's help and mercy.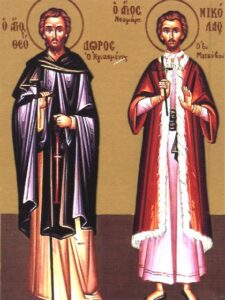 Once, while living in the desert, Pachomios learned that the city of Alexandria was being ravaged by famine and epidemic. He spent several days in tears and prayers, not even eating the meagre ration of food which he allowed himself. His novices begged him to eat and restore his strength but St Pachomios replied, "How can I eat when my brethren do not have bread?" How far are even the best of us from such love and commiseration?
The saint taught his spiritual children to avoid judging others, and he himself feared to judge anyone even in thought. St. Pachomius cared for the sick monks with special love. He visited them, he cheered the disheartened, he urged them to be thankful to God, and put their hope in His holy will. He relaxed the fasting rule for the sick, if this would help them recover their health. Pachomios believed that "it was not good to ask for office and glory" and, wary of ecclesiastical politics, felt that "a clerical office is the beginning of contemplation of the lust for power".
It happened that there was a shortage of grain at the monastery. The saint spent the whole night in prayer, and in the morning a large quantity of bread was sent to the monastery from the city, at no charge. The Lord granted Saint Pachomius the gift of wonderworking and healing the sick.
By the time he died, Pachomius had founded 11 monasteries, numbering more than 7,000 monks and nuns. He inspired many to follow the path to salvation and directed many on the path to truth. He was and remains a great light of the Church and a great witness to the truth and justice of Christ.
St. Baselios had implemented the rules codified by Pachomius. Egypt was in the grip of an epidemic in A.D. 348 and many members of the monastery died. Pachomius was also a victim of this pandemic and died in A.D. 346. St. Pachomius died around the year 348 at the age of fifty-three, and was buried on a hill near the monastery. Before, his death he assembled all the inmates of the monastery and Palladius reminded them about the rules of ascetic life especially the oath of obedience in order to strengthen their faith. His feast is celebrated on 9 May and May 15 and May 28, by Oriental Orthodox, Eastern Orthodox, and Catholicis . He achieved several records in the history of Christianity, and is a proof of how Providence works wonders through those who give their full acceptance to the divine will. He is also credited with the diffusion among the monks of the prayer rope.