St. Paul – I – Saul, 'The Pharisee and Arch-Persecutor'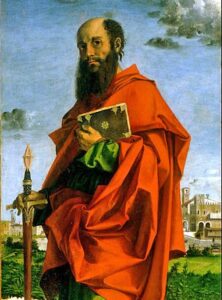 St. Paul is the invaluable wealth of Christian Church, just after Christ and Scripture. It is said that while Christianity begins with Jesus, there is a second beginning to Christianity in Paul. He who is remembered as the Pharisee who admitted that, 'I am the first among sinners', started his life, as the destroyer of Christian Church, later turned to be the builder of the Church and is called the 'Apostle of the Gentiles' or 'Champion of the Gentile Mission' and the world's most successful Christian. Jesus Christ appeared to him and called him, hence he can be called an Apostle. He suffered a lot to build the Church. Paul, was a "Jew, born in Tarsus in Cilicia' (Acts 21: 39), a famous city, capital of a Roman province in Asia Minor (now in Turkey). Hence his boast that he was a 'citizen of no mean city' (Acts 21: 39). It is believed that Saul was born in A. D. 1. So, Saul was born about the same time or soon after the birth of Christ.
Saul was born in a Jewish family, in the tribe of Benjamin and a Pharisee by religion (Acts 23: 6; Genesis 49: 1, 27). He was given the name Saul after the first King of Israel, who also was from the tribe of Benjamin (Rom. 11: 1; Phillip. 3: 5). He was a Roman Citizen (Acts 22: 25-28) by birth which was endowed upon him as a result of some great deed done by his father to the Roman government. This could save him twice from the authorities. The word, a pure blooded Hebrew shows that he was a pure Jew. He used Aramaic language because he was a Pharisee. He might have learned Greek also. It is not sure how he got the name Paul. Sometimes, his neighbours might have called him Paul instead of Saul. 'Saul' is a common Hebrew name. Its form was 'Savul'. The name, Saul is used in Acts. 7-13. The Greek form of the same is Paul. We can see this name from Acts 13:9 onwards.
His father and mother were both native Jews, therefore he calls himself 'Hebrew of Hebrews (Philipp. 3: 5; 2 Cor. 11: 22). His family was firm believer of Jewish religion. In that morally restricted society, he lived obeying God's Law with devotion; because he says that "I was without fault concerning the Commands." He was with a pure conscience (2 Tim. 1: 3; and blameless (Philipp. 3: 6). His strict Pharisee parents guided him to God, and tried valiantly, to raise him as good Jew. His family atmosphere suited well to spiritual growth. We could know nothing about other family members. In Acts 23:16 it is said that one sister was in Jerusalem. His family had a high position in the society. His childhood days were spent happily. Royal recognition, wealthy position and family status influenced his childhood days. The personality of an individual develops in relation with his childhood and education. The mission work of Saul, who became eminent as a result of the knowledge acquired from the Jew Rabbis and the influence of educational center at Tarsus, helped a lot in the growth of the Christian Church. In addition to the learning received from his parents he received religious education in Synagogues. He was a good student at the Synagogue school in Tarsus and had memorized the scriptures for he later showed that he knew the Law very well. Saul went to Jerusalem for higher education and under the famous Rabbi named Gamaliel, who was the student of Hillel, a famous Rabbi. They were eminent in their religious perseverance (Acts 5: 34-42). Gamaliel stood first among the famous Jewish Rabbis or doctors of law. His knowledge and suitability can be seen in Acts 5: 35. Saul himself was proud of his studentship under Gamaliel (Acts 22: 3). This education helped him a lot in his missionary work. He could handle his work as a preacher and an interpreter of Old Testament as a result of this learning. Paul was a brilliant student; he learned his lessons so well and spoke with conviction that even as a young man he was a religious leader. After his education under Gamaliel, he returned to Tarsus. It is a custom to select one manual skill at the age of twelve. Hence, he selected tent making which was the occupation of his father (Acts 18: 3), a common occupation in Tarsus. Even though he selected Tent making as his manual skill, he wanted to become a Jewish Rabbi. It was a law that those who wanted to become Rabbis should enter into a certain occupation to make themselves self-dependent. This came handy to him later and helped him to do his mission work smoothly, not to burden the Churches to help the needy brothers of the church.
He had opportunities to listen to the lectures of the scholars at Tarsus. Hence he could know Stoic Philosophy and the Greek Laws. He could present verses from Greek poems (Acts 17: 28, 1 Cor. 15: 33, Titus 1:12). The idioms, phrases and proverbs used by Paul may be the evidence of his mastery over the languages and general knowledge.
There is no proof to explain the meeting of Paul with Jesus Christ at the time of His public mission. During this period Paul would have been at Tarsus. If he was, at Jerusalem during this period Paul would have protested John, the Baptist too. In addition to that he would have been one among the Pharisees who argued with Jesus Christ. If he had a meeting with Christ in this period, he would have recalled it, in his letters. The Gospel writers also would have mentioned it. Paul would have returned to Jerusalem by A. D. 31, soon after the resurrection of Christ. His purpose would have been realizing his aim to become a Rabbi and also to continue his studies under Gamaliel. Paul learned and interpreted the law of God with the same sincerity and devotion of every Pharisee. Thus, he became an eminent Christian missionary in whom Jew's education, Roman citizenship and Greek knowledge merged into one. Both the Hellenistic environment of Tarsus and the Jewish heritage of his family left marks on the young Paul.