St. Theodore, the Sanctified – May 16 I Disciple of St Pachomius the Great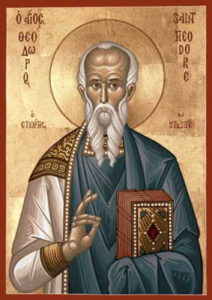 St Theodore was called Sanctified, as he had purified his heart of passions and tuned his body worthy to be a temple of the holy Spirit and because he was the first in his monastery ordained to the priesthood. St Theodore who was born in the Upper Thebaid, to rich and illustrious pagan parents. He was inclined to and showed a yearning for monastic life right from his childhood. As a boy, he did not want to take part in the festivities, grieving that because of earthly joys he might be deprived of joys in the life to come. Once there was a large party at the house of his parents during the feast of Theophany. He secretly left home when he was fourteen and entered one of the monasteries, near present town, Esna, where he heard a lot about Abba Pachomios.
Hearing about Pachomius the Great, he developed a keen desire to meet the ascetic. Around AD 328, St Pachomius received the young man with love, having been informed by God beforehand about his coming. Remaining at the monastery, St Theodore quickly succeeded in all his monastic tasks, particularly in the full obedience to his guide, and in his compassion towards the other brethren. Theodore's mother, learning that he was at the Tabennisi monastery, came to St Pachomius with a letter from the bishop, asking to see her son. St Theodore did not wish to break his vow to renounce the world, so he refused to meet with his mother, but prayed that God would enlighten her with the Truth. She, not only did not meet her son, but did not return home, but she herself did not return home, but she entered the convent, not far away which was under the spiritual direction of Pachomius' sister, and was later tonsured a nun.
Seeing St Theodore's strength of mind and ability, St Pachomius once told him to instruct the brethren on Holy Scripture. St Theodore was then only twenty years old. St. Pachomius tonsured him a monk and admired him because of his unique zeal and obedience. He obeyed and began to speak, but some of the older brethren took offense that a new monk should teach them, and they departed. St Pachomius said to them, "You have given in to the devil and because of your conceit, your efforts will come to naught. You have not rejected Theodore, but rather the Word of God, and have deprived yourselves of the Holy Spirit."
Once St. Theodore was in Panopolis with St Pachomios, his spiritual father, a philosopher came to him and offered to debate with him about the Christian faith. The philosopher posed these three questions to Theodore:
"Who was not born, but died?"
"Who was born and did not die?"
"Who died and did not decay?"
To these questions, Theodore replied: "Adam was not born and died. Enoch was born and did not die. Lot's wife died and did not decay." And the Saint added this advice to the philosopher: "Heed our sound advice; depart from these useless questions and scholastic syllogisms; draw near to Christ Whom we are serving and you will receive forgiveness of sins."
It once happened that the Bishop of Panopolis invited Pachomius to build a monastery for the many people who were desirous of the monastic life. Pachomius took Theodore with him, and entrusted to him the duty of building the monastery. St Pachomius appointed St Theodore as overseer of the Tabennisi monastery, and withdrew to a more solitary monastery. Theodore's utter humility and unquestioning obedience, Pachomios called him more and more to his aid in governing the monasteries he had established. After a certain time, Paphanutius, Theodore's brother, also came to the monastery and was tonsured. St Theodore with filial love continued to concern himself over his teacher, and he took care of St Pachomius in his final illness, and when the great abba reposed in the Lord, he closed his eyes. After the death of St Pachomius, St Theodore directed the Tabennisi monastery, and later on he was at the head of all the monasteries in Thebaid.
St Theodore the Sanctified was famed for his holiness of life and a great gift of wonderworking, and he was well known to St Athanasius, Patriarch of Alexandria. St Theodore lived a life pleasing to God, directing the many monks on the road to salvation reposed peacefully in his old age in the year 368. At Theodore's death in the year 368, the monks mourned him so bitterly that the sound of their wailing and crying was heard on the other side of the river.